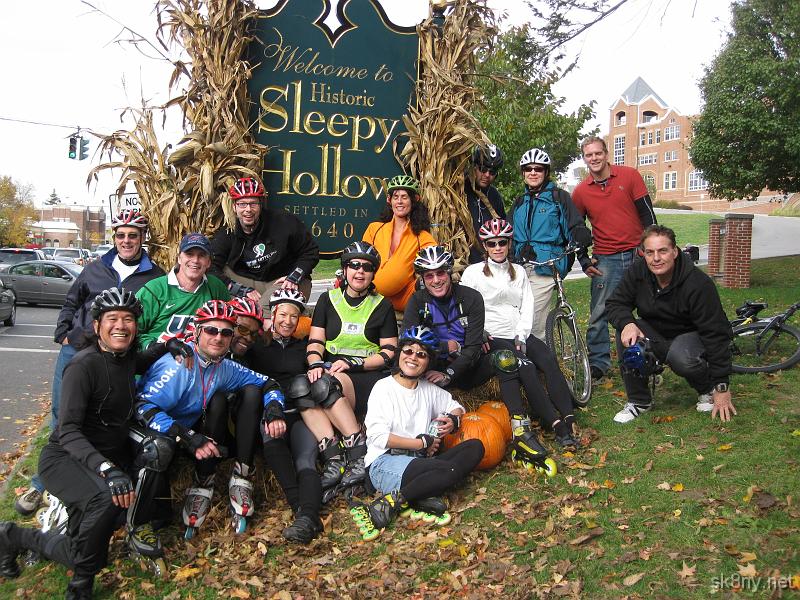 Join us as we skate down the Headless Horseman on SATURDAY OCTOBER 27.


Meet at COLUMBUS CIRCLE, entrance to Central Park at 10:30AM
Led by Peter McKiernan, pgmck03 [at] yahoo.com, (914) 258 5943.
Distance: 26-30 miles
Footwear required for train, and possibly restaurant.

Heading north along the Hudson to the historic town of Sleepy Hollow. This will be a 26-30 mile skate, beginning with the Hudson River Greenway north to the GW Bridge and The Little Red Lighthouse. From there, we will skate up to and alongside the Henry Hudson Parkway and through Inwood Hill Park until we cross the Henry Hudson Bridge into Riverdale in the Bronx. The skate will continue up Riverdale Ave until we reach the City of Hills - Yonkers - where we will access the newly-paved South County trail. We will leave the trail in Hastings on Hudson so that we can explore the Husdson River villages of Westchester County as we roll our way north to Sleepy Hollow, We'll end our skate at the old cemetery used by the earliest Dutch settlers, from 1640 on and where "Headless Horseman" author Washington Irving reposes. We will stop in Sleepy Hollow / Tarrytown for food, so please bring money and shoes.

We'll then return to Manhattan on Metro North, which runs just next to the Hudson. The hardier may wish to skate back via White Plains and then head back down further inland.

We are trying a new route for this event that will take across a bridge that we haven't crossed in some time. We should be able to maintain an intermedaite speed along much of the level terrain on the pathways. There are a few challenging uphills, but a nice long downhill is the reward in Yonkers just before we enter the South County Trail. Stops to rest and refresh will be as frequent as necessary to make the miles enjoyable in what is forecast as a warm fall afternoon.

Note that we will leave New York City limits, beyond which train stops (Metro North) occur only once per about 1.4 miles. Most roads have nearby bus routes--Westchester line ($1.40) 1 from Tarrytown to Dobbs Ferry; line 1T from Dobbs Ferry to the 1 subway stops in Riverdale)--so you can turn back from most points on route.

Skaters must be comfortable on hills and with traffic. Helmets and wrist guards required, all other protective gear recommended.

Bikers are welcome.
If you want to come by bicycle, you have to have a bike permit for the train. You can get the lifetime $5 permit the same day or before by previously downloading and filling out permit application at MTA bike webpage www.mta.nyc.ny.us. Permit application and $5 fee must be given to ticket or conductor staff.

This is an Empire Skate Club event.

Led by Pete M.





Saturday October 27, from Columbus Circle, 10:30AM

Rain date: Sunday October 28, same bat.